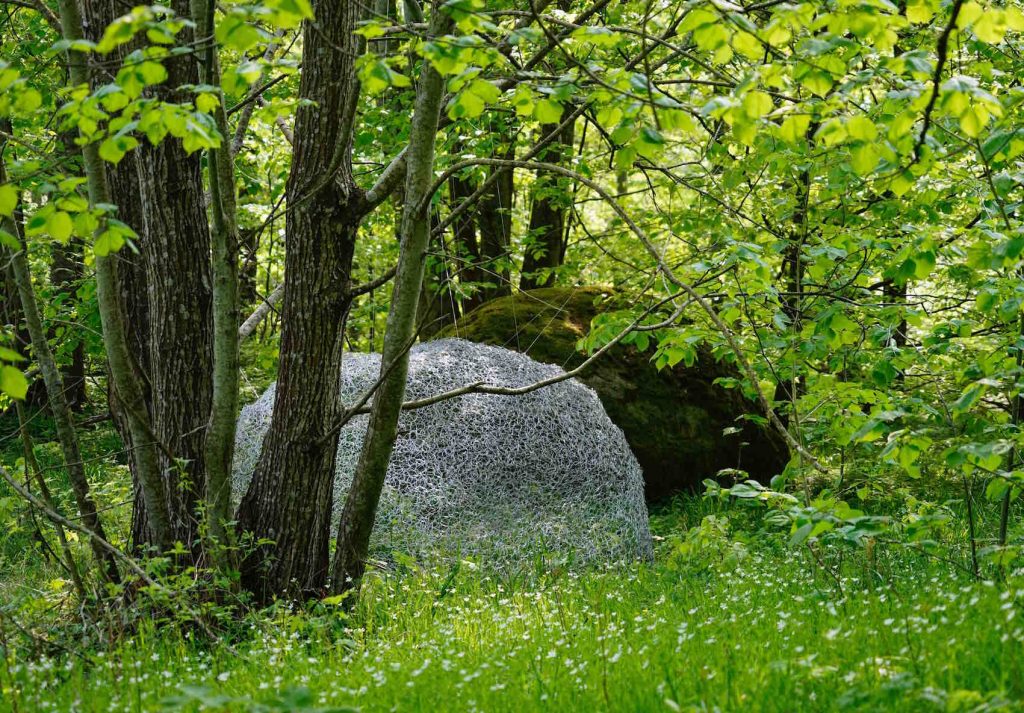 What you Bring. What you Leave
---
"What you Bring. What you Leave" is a site specific outdoor art work made by Lise Wulff for the exhibition "A Clear Day".
A rounded moss covered stone is beautifully situated in a shade between the trees. The shape of the rock is repeated in a light and transparent material; crocheted steel wire. The two forms are next to each other, inviting to thoughts around the heavy vs the light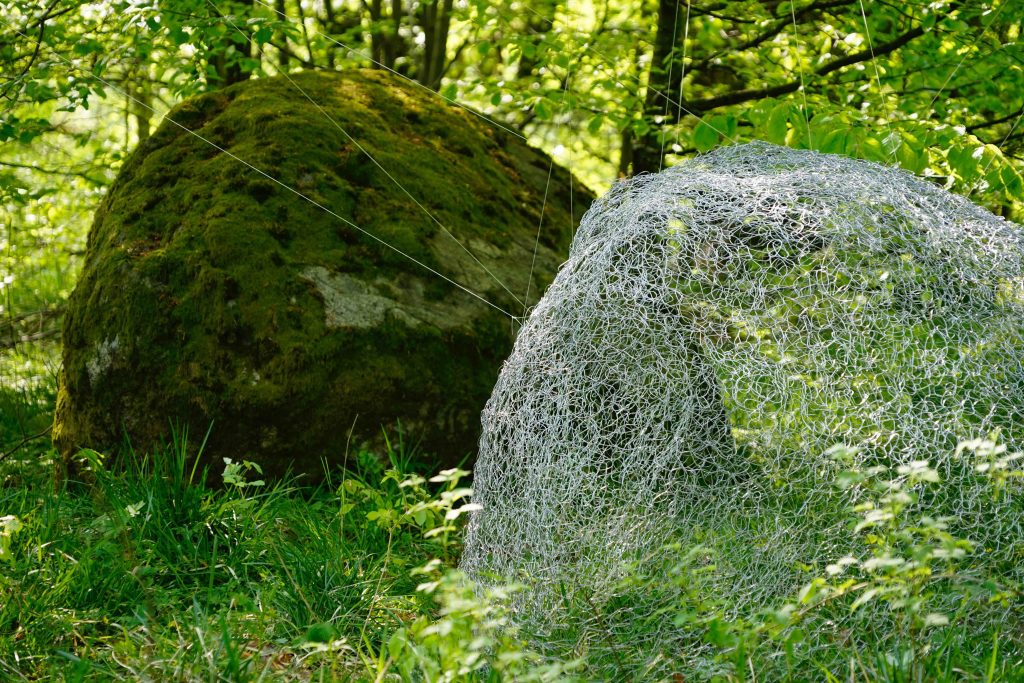 "A Clear Day" is an outdoor art exhibition at Nääs Slott, situated just outside Gothenburg. Artists from the Nordic region are invited; Lise Wulff (N), Maria Lilja (S), Mikael Hansen (D), Kaisu Koivisto (F), Cecilia Parsberg (S), Greger Stålgren (S), Helena Maria Ekenger (S) and Agneta Segerfelt (S).
Migration is the conceptual framework of the exhibition, in a broad perspective. The first human beings came to Nääs during the bronze age. Starting from the human cradle in the south east area of Africa, our predecessors moved through the Middle East and further up north through Europe and to the Nordic region. The artists are invited to reflect upon this historical movement, when looking at today's refugee situation. The title "A Clear Day" invites to look at migration with a fresh view and within an historical context.
Exhibition period: 20th of May to 30th of September 2017. During the exhibition period there will be several seminars and work shops. Organizers are "Ett kryss för tanken" and Nääs Konsthantverk.
Thanks to the Nordic-Baltic Mobility Programme
Lise Wulff is granted support from the Nordic-Baltic Mobility Programme for Culture, financed by the Nordic Council of Ministers and the Ministers of culture in the Baltic countries. The overall objective of the programme is to enhance cultural and artistic collaboration in the Nordic and Baltic countries by supporting traveling, networking and residential activities.

---